Olde Fields Clothing Co.
Posted by Holly Galotti on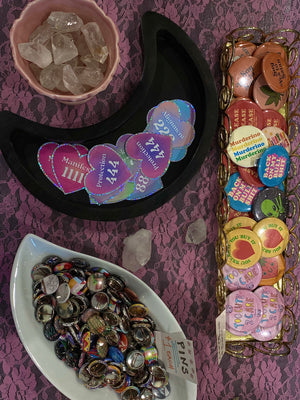 Market week is coming up at FSU and Olde Fields will be attending all week! Market week is a lot similar to market Wednesday except better because it's all week instead! We set up right by the Integration statue on Legacy Walk. We will be bringing out a ton of our sale items so you can grab some good deals. We will also have 5$ bins full of goodies. Make sure you come and stop by on your way home from class to grab some good deals while you can!! We are planning to not only bring out some great sale items...
Posted by Maggie Hummer on
We are just shy of being a month away from winter and Olde Fields can't wait!  Who says you can't look cute when it' cold out? NO ONE!!  We want you prepared for this weather!  New denim is on it's way to the store and new beanies have just arrived.  Beanies are essential in this 30/40 degree weather.  We also stocked up on your favorite jewelry items like bracelets, necklaces, anklets and body chains.  The chain link necklaces that everyone is wearing right now... Yeah, we've got them!  Be on the look out in the next few weeks for long...
Posted by Maggie Hummer on
Are you excited? Gaines Street Fest is almost here! Visit Gaines St & S Macomb St on November 9th for a block party with free music performances from local artists/bands and almost 30 of your favorite local shops and vendors!  The event runs from 2pm on Saturday Nov. 9th through 2 am November 10th.  Vendors will range from food trucks, food stands, art, performances, jewelry and clothing!  So many unique finds at Gaines Street Fest for all your shopping pleasures & there is no better way to start gift shopping early than at GSF with Christmas being the following month....
Posted by Maggie Hummer on
We know the real reason you love Fall... Shopping I love when it gets cold out because I can start wearing the cute sweaters and jeans that hide in the back of my closet all year.  Unfortunately, I live in Florida and it is STILL 90 degrees in the morning during October.  That means I have a couple more weeks till I   need clothes for the cold.  Which makes the next few weeks the perfect time to hit all the best boutiques.  Olde Fields just stocked up on Fall clothing to make it easy for you and I.  If you...
Posted by Maggie Hummer on
Did anyone else feel that cool breeze this weekend? Colder weather is on its way (at least at night) but I'll take it!  Today is the first day of Fall according to the astronomical season this year.  Are you prepared? More importantly is your closet prepared? So what are the must-haves?   Dark wash flare or skinny jeans Camel brown suede booties Black leather booties Military inspired outerwear Oversized hoodies  Teddy jackets  Jean jackets with faux shearling  Black high neck long sleeve tops Treat yourself to these clothing pieces this Fall, you deserve it! REMEMBER it is the time to...
---