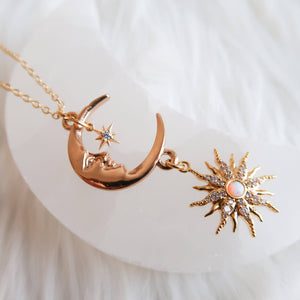 Bohindi Stream Necklace- Believe in Magic
You know what the issue is with this world? Everyone wants a magical solution to their problem, and everyone refuses to believe in magic. -Alice

☾ DETAILS * 24kt Gold Plated Necklace 15" with 3" Adjuster Link * Gold Moon Charm * 14k Cubic Zirconia Star Charm * 14k Gold Plated Opal Sun Charm with Cubic Zirconia

MESSAGE FROM THE OPAL STONE: I am a stone of inspiration that enhances imagination and creativity. I bring inspiration to projects, life, and the spirit. I can help ease the effort of handling change in life. My energy can help continue on your path regardless of obstacles. I enhance self-esteem and sense of self worth.  With the power of intent, crystals can open a world of healing and peace found within.
---
We Also Recommend