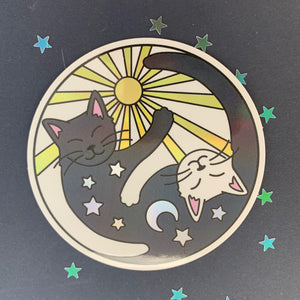 Ying Yang Sun & Moon Cats Sticker - Holographic
Sun & Moon Cuddly Cats Yin Yang Sticker - These 2 cuddly kitties are the yin to each other's yang, much like the sun & the moon. Holographic details add shimmer to the sun, moon, & stars.
Stick this on just about anything you want to make your own - your laptop, phone case, water bottle, etc.!
Details:
♥ Measurements: approx. X" x X"
♥ Materials: holographic vinyl
♥ Packaging: unpackaged
♥ Listing is for one sticker
---
We Also Recommend