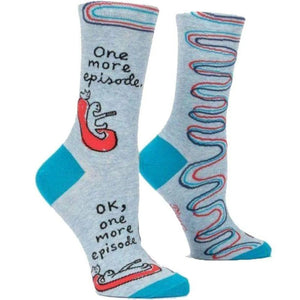 Just one More Episode - Women's Crew
Are you a binge watcher? Love Netflix, Prime Video, HBO, Hulu?  Do you tell yourself every night - "I'll just watch one more"??  Then, these One More Episode Socks are perfect when you're lounging on the couch and binge watching the latest and greatest shows!
These beautiful blue socks depict a literal couch potato [the "couch" looks remarkably like a red potato] with an extended remote control.  When you're wearing One More Episode Socks, you'll never want to get up from the couch because it's so cozy!
The phrase "One More Episode" is written in script on the outside of each sock so everyone can admire your style!
Style:  Crew
Size: These women's crew socks fit women's shoe sizes 5-10
Materials: 54% nylon, 43% cotton, 3% spandex.
---
We Also Recommend