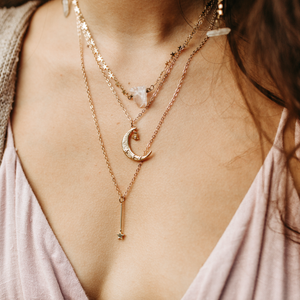 Bohindi Stream- See You in a Dream Choker
▶▶DETAILS◀◀

▪Wire wrapped Rose Quartz Nugget
▪Gold Plated Etched Moon Star Pendant with cubic zirconia
▪Gold Plated Star Wand
▪16k gold plated star chain (12") , 18k gold plated chain (14" , 18"- lowest strand) with 3" adjuster links

Each piece is handmade with love in sunny 'ole Florida and use genuine crystals & quality materials that have been tested for longevity. Due to crystal variances and their unique raw nature, each one may differ in size and shape. No two crystals are cut exactly the same.

MESSAGE FROM THE ROSE QUARTZ CRYSTAL:

I dissolve emotional wounds, fears, resentments, and circulate divine loving energy throughout the entire aura. I inspire the love of beauty in oneself and others. I am the stone of love, tenderness, and sensuality. I am calming and reassuring.
---
We Also Recommend