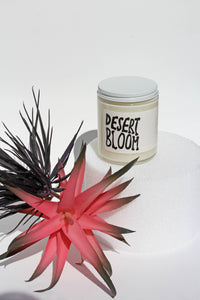 Desert Bloom Soy Candle - 7 oz
Desert Bloom agave, sage, poppies Retro modern clear jar candles inspired by the feeling of Spring: the rebirth of nature, happy thoughts, and a fresh mindset.
At the end of your candle's life, the glass jar and metal lid are 100% recyclable (or reusable!) Just place your candle in the freezer to freeze the wax, then pop out the remaining frozen wax with a spoon.
Burn time for each candle is approx. 25 hrs.
Jar Measurements: Size = 9 oz | Height = 3.5" | Outside Diameter = 2.88". Single Wick.
---
We Also Recommend